Carpet cleaning services are offered for customers who want their rugs and carpets handled professionally, making sure that all dirt and bacteria are removed and the item protected. Commercial carpet cleaning mainly uses two methods, namely the dry cleaning and hot water extraction.
Dry Cleaning Method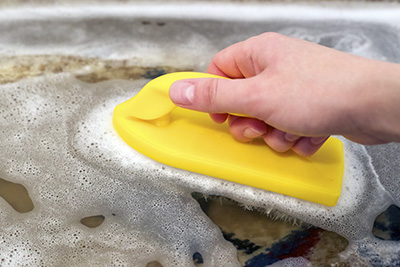 Dry cleaning for carpet is better called low moisture cleaning for the carpet to be reused quickly. Under these methods are different ways in which the flooring is maintained. These include dry extraction, bonnet pad, rotary shampoo, encapsulation, and dry foam shampoo cleaning methods. Basically, these methods use chemicals to break down soil or particles. Dry cleaning is advantageous since the carpet dries quickly.
Hot Water Extraction
This technique is also called steam cleaning, wherein a machine is used to clean the carpet. A hot cleaning solution is injected under pressure into the fibers and then immediately extracted. Before steaming process, pre-conditioning may be done for areas with heavy dirt accumulation. The machine can be either portable equipment or a modern truck that makes use of long hoses to cover the area. Nevertheless, they are both effective. The advantage of this method is that low chemical cost is used and it is best for removing soil. This is also used for other furniture. You can ask for upholstery steam clean from our carpet cleaning contractor as well.
The best residential carpet cleaning method would depend on a number of factors. All techniques offer advantages while there are also limitations. When performed under the right conditions, each could offer satisfactory results. Several methods could even be combined to achieve excellent results. Shampooing without extraction is the oldest form of cleaning, while modern techniques include in-plant cleaning. This is a specialized way to clean valuable rugs but is quite expensive compared to the other procedures. Experts in carpet cleaning La Canada Flintridge recommend regular maintenance for dirt to be removed easily.