Removing difficult stains proves to be a real challenge because not all carpet stains are created equally. Some people do not know where to begin when they are faced with one of those type stains. Red wine and coffee are the worst of the worst stains to remove from carpet. They are a dark color and both are acidic. It is next to impossible to remove them if they are not removed immediately. Club soda or water should be poured over the area of the stain and blotted up with a cloth. Please do not rub the area because that only grinds the stain into the carpet further. If the area dries and the stain is still visible then a baking soda and water combination made into a paste should do the trick.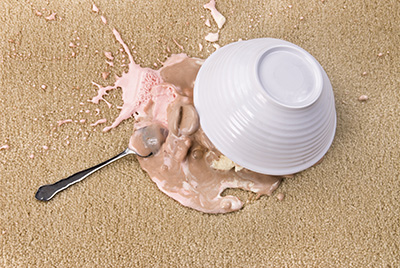 Removing Motor Oil
If you find yourself faced with removing motor oil from your carpet do not panic. Blot up as much of the oil as you can and then put shaving cream on the area. Gently work as much of the shaving cream into the stain by using a brush. This is the one time that you are allowed to rub the stain instead of blot it. The shaving cream has to be the regular kind. This home remedy should work. If it does not then you may want to consider getting some professional cleaning done.
Removing Blood
If you have a family then the next two types of carpet stains are very common in most homes. Blood and candle wax are two of the easier stains to remove from your carpet. Blood can be removed by using an enzyme based detergent so that the blood can be broken down. Hydrogen peroxide can also be used. Let it soak into the stain then blot it with water.